January 25, 2012
Sedona golf is popular with golfers from the Southwest and around the world because of the dramatic red rock backdrops and the fabulous courses offered here. Sedona has five courses to choose from. Hotel resorts, as well as public and private clubs, have quite a range of Sedona golf offerings within a relatively small area. Mountain Time is the local time zone and  and daylight savings is not observed.
Book Tee Times 24/7 through GolfNow.com!
Canyon Mesa Country Club
Canyon Mesa has a shorter par 28, 9-hole executive course–perfect when time or energy is limited. This course has  mature trees and some water, creating a good challenge. The surrounding red rock views are picturesque.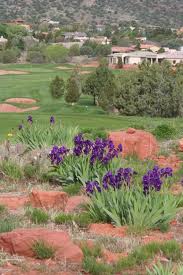 Where: 500 Jacks Canyon Rd, Sedona, AZ
Designer: Jack Snyder, ASGCA
Special features: Short course
Year opened: 1984
Holes: 9
Public/Private: Public
Size: 1,265 yards
Par: 28
Course rating: 30
Slope rating: 80
Green fees: Weekend $26.50
Save up to 70% on tee times when you book on GolfNow.com Today!
Oak Creek Country Club
Many consider Oak Creek Country Club to be the most interesting course in the area and the most enjoyable to play. This par-72 18-hole championship course has three lakes on 145 acres in the Village of Oak Creek bringing water into play on several holes. This course is "player friendly" and allows for plenty of room for error with the opportunity to put errant shots back into play.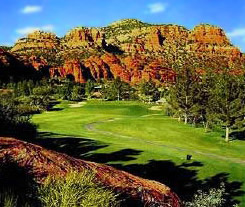 Where: Lakeshore 690 Bell Rock Blvd, Sedona, AZ
Designer: Robert Trent Jones, ASGCA
Special features:
Holes: 18
Size: 6,824 yards
Par: 72
Course rating: 72.2
Slope rating: 132
Green fees: Weekend $115.00
Poco Diablo Golf Resort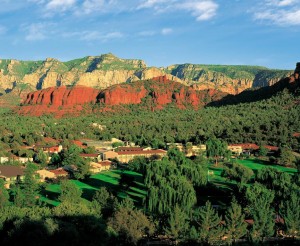 Poco Diablo is a great 9-hole par 3 course at the pretty Poco Diablo Resort in Sedona. Poco Diablo is a daily fee golf course with a call-for-playing-privileges guest policy.
Where: 1752 State Route 179, Sedona
Designer: Jack Snyder, ASGCA
Holes: 9
Year Opened: 1980
Size: 777 yards
Par: 27
Green fees: Weekend $20.00
Sedona Golf Resort
Named one of the Top 10 New Public Golf Courses by Golf Magazine in 1990 and rated a continuous four stars by Golf Digest, Sedona Golf Resort is considered by many to be one of the best golfing experiences in the State of Arizona. This par-71 course is located in the Village of Oak Creek and is close to many other things to see and do for the whole family. There are five tee selections, the shortest over 5,000 yards. Known for its gorgeous scenery and challenging holes, the course winds around the amazing red rocks of Sedona, each hole provides unique challenges and adventure.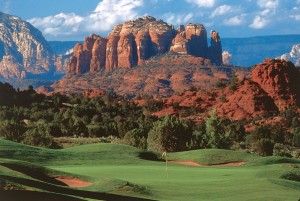 Where: 35 Ridge Trail Dr, Sedona
Designer: Gary Panks, ASGCA
Holes: 18
Year Opened: 1962
Size: 6,646 yards
Par: 71
Course rating: 70.3
Slope rating: 129
Green fees: Weekend $105.00
Seven Canyons Golf Club
Seven Canyons is an exclusive private club surrounded by over 100,000 acres of national forest that has received numerous accolades including one of the "Top 100 Modern Courses" by Golf Week, one of "Golf's Finest Playing Ground" by Links Magazine, one of the "top 10 best new private courses in the US by Golf Digest magazine" and many others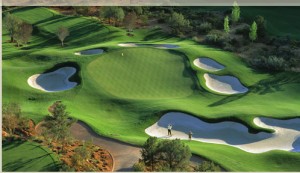 Designed by Tom Weiskopf, this course offers spectacular natural beauty and 5-star service and amenities. Located on 200 acres at the end of Dry Creek Road in West Sedona, this -hole, par-70 championship golf course is surrounded by club villas and home sites, tennis courts, a fitness center, dining facilities, shops, swimming pools and wellness center.
Where: 755 Golf Club Way, Sedona
Designer: Tom Weiskopf
Year opened: 1984
Holes: 18
Public/Private: Private
Size: 6,746 yards
Par: 70
Green fees: Weekend $150
Next Door to Sedona Golf
Beaver Creek Golf Club
Beaver Creek Golf Club is a fun, 71-par, 18-hole regulation course in Lake Montezuma (Rimrock), Arizona, about a half hour from Uptown Sedona and 15 minutes from the Village of Oak Creek. Beaver Creek is a daily fee golf course open to the public. The course features three sets of tees for different skill levels.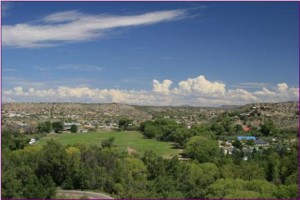 Where: Lakeshore Drive and Montezuma Avenue, Rimrock, AZ
Designer: Jack Snyder, ASGCA
Special features: 3 sets of tees for different skill levels
Holes: 18
Public/Private: Public
Year Opened: 1962
Golf Season: year round
Guest Policy: Open
Tee times welcomed: Yes
Fairways: Greens
Size: 6,486 yards
Par: 71
Course rating: 69.8
Slope rating: 120
Green fees: Weekend $45.00